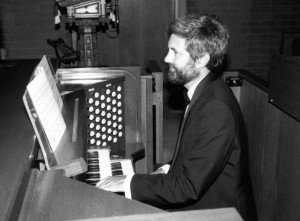 John Laing is an accomplished recital organist who has given many performances in North America and Europe. He studied with Sir David Willcocks, Gwilym Isaac, John Birch and Peter Hurford, and at the age of twenty he became a Fellow of the Royal College of Organists. He won an Organ Scholarship to Corpus Christi College, Cambridge, where as a post-graduate he received a Bachelor of Music degree in organ performance and musicology. He now performs an extensive recital repertoire, to which he has added recently several of his own compositions. Throughout his career he has held the post of Organist and Choirmaster successively at All Saints' Church, Banstead (U.K.), Christ Church Cathedral, Montreal, Christ's Church Cathedral, Hamilton, St. Jude's Church, Oakville, and The Church of the Ascension, Hamilton.
John is also very highly regarded as a piano accompanist and he has performed in concert with many outstanding solo artists. They include singers Janet Obermeyer, Marian Sjolander, James Bechtel and John Fanning, and instrumentalists Sonia Vizante (violin), Kathy Rapoport (viola), Zdenek Konicek (cello), David Gerry (flute), Joan Browne (flute) and Stephen Pierre (clarinet).
As a harpsichordist he has performed as a concerto soloist with the Hamilton Philharmonic Orchestra, and as continuo player and soloist with several fine baroque ensembles.