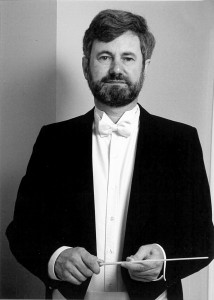 John Laing has conducted many fine choirs in Canada. Among them are The John Laing Singers, The Hamilton Children's Choir, The Canadian Centennial Choir, The Cathedral Choirs of Montreal and Hamilton, and the Choir of St. Jude's Church, Oakville. Choirs under his direction are known for their beautiful tone, diverse repertoire and compelling performances.
John's longest held and most renowned position was as Founder, Conductor and Artistic Director of The John Laing Singers. In only their fourth season this chamber choir were finalists in the CBC National Choral Competition (1986), and they went on to represent Canada at International Choral festivals in Montreux, Switzerland, and Nancy, France, where they were judged to be among the top two choirs. The choir has received widespread acclaim for its recordings and broadcasts, it has performed throughout Ontario and Quebec, and it presented the centrepiece concert to celebrate Hamilton Day in Sarasota, Florida, at the special invitation of both cities in 1997, and again in 2006. The Hamilton Spectator critic, Hugh Fraser, said in reviewing their twentieth anniversary concert: "It came to me that The John Laing Singers, perhaps uniquely of all the groups I have heard in Hamilton, began with a rating of superb and consistently got better with every outing".
During the past decade John has composed a large number of choral works, as well as writing many choral arrangements. He has conducted all of these in concert, recorded many, and his repertoire is gaining widespread popularity.